direzioni
Da Maienfeld a Heidihütte, Heidialp-Ochsenberg. (seguire le indicazioni per Ochsenberg/Heidihütte)
Dalla fontana di Martin: Tempo di percorrenza ca. 1h 15 min
Si raggiunge il parcheggio Martinsbrunnen via Steigstrasse, e lasciare l'auto nel bellissimo parcheggio ombreggiato nella foresta. Da lì si cammina comodamente sulla strada naturale che porta all'Ochsenalp, Heidihütte.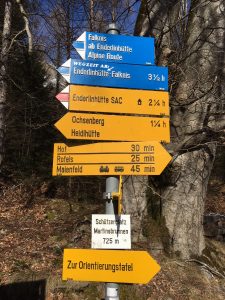 Dal parcheggio Heidihof: tempo di percorrenza ca. 1h 45 min
Dall'ampio parcheggio del ristorante Heidihof si raggiunge in pochi minuti il villaggio di Heidi a Oberrofels, con museo e chiosco con informazioni turistiche. Da qui lo stretto sentiero escursionistico fino alla strada naturale che racconta la storia degli eidi alle 12 stazioni con le relative figure in legno. Come raggiungere il cappello originale di Heidi con i bambini in modo divertente.
Dal parcheggio Rofels: tempo di percorrenza ca. 1h 45 min
Da Unterrofels (piccolo parcheggio) si segue l'ampio sentiero escursionistico prima asfaltato poi naturale. Le 12 stazioni raccontano in modo divertente i diversi episodi della storia di Heidi.
In cima troverete un team di capanne con cibo e bevande e natura pura per soffermarsi.
ore di apertura
In aprile e novembre tutti i fine settimana da maggio a ottobre continuo, con bel tempo dalle 11:00 alle 17:00.
Altri orari possibili su richiesta (gruppi, club, ecc.).
équipe
Hüttenteam:
TEAM Zindel:
Tel. 079 263 78 45
TEAM Ackermann:
Tel. 079 773 07 67
Storia
Il rifugio sull'Ochsenberg, costruito più di 200 anni fa, è immerso nella natura.
Questo luogo idilliaco ha ispirato tanto la scrittrice Johanna Spyri, la famosa storia di Heidi "intorno al 1880", quanto l'incomparabile romanzo per bambini. L'originale rifugio è recentemente diventato un luogo incantevole per rilassarsi e godersi la natura.
Patria
Se il tempo è buono, saremo lieti di accogliervi dal 1 maggio 2019 al 3 novembre tutti i giorni.
Il ristorante alpino in una splendida posizione, l'originale rifugio Heidi sull'Ochsenberg sopra Maienfeld.
Qui si può godere di una vista fantastica e una natura meravigliosa. Da Maienfeld in ca. 1,5 ore a piedi o in ca. 45 minuti in bicicletta.
Siamo lieti di servirvi piatti tipici svizzeri caldi e freddi.
informazioni possono essere trovate qui:ore di apertura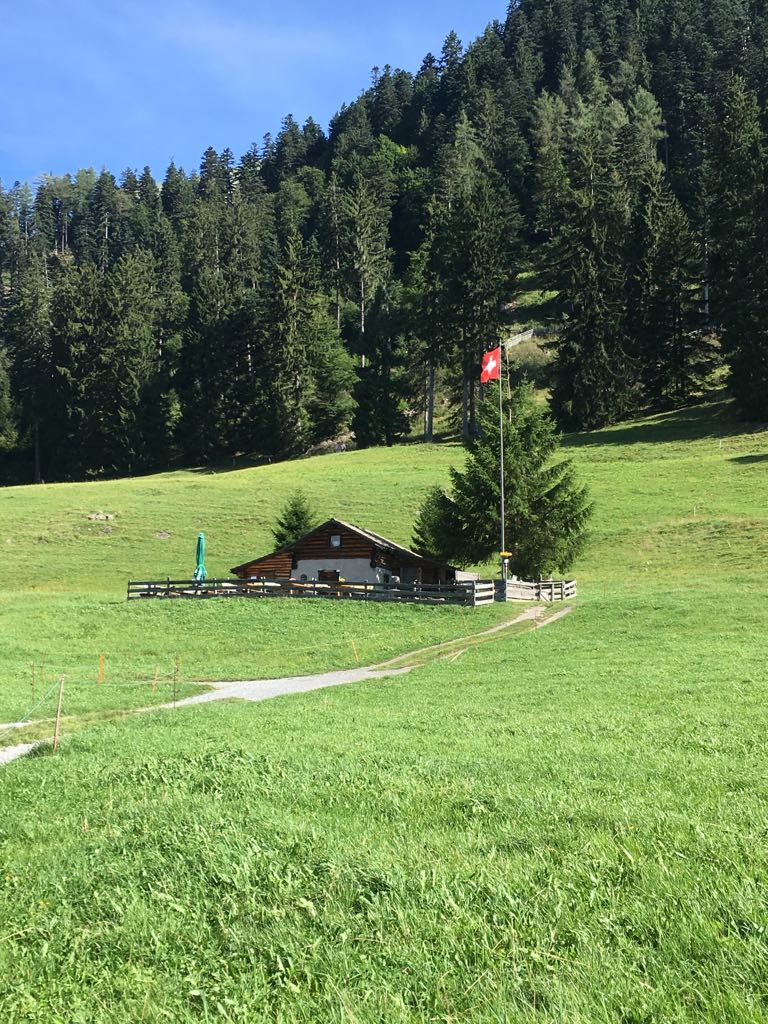 Si accettano :
Franco Svizzero (CHF) / Euro 1:1
Nessuna carta di credito
directions
Directions from Maienfeld to Heidihütte, Heidialp-Ochsenberg. (follow signs to Ochsenberg/Heidihütte)
From Martin's Fountain: Walking time approx. 1h 15 min
You reach the parking lot Martinsbrunnen via Steigstrasse, and leave your car in the beautiful, shady parking lot in the forest. From there one walks comfortably on the natural road to Ochsenalp, Heidihütte.
From Heidihof parking lot: walking time approx. 1h 45 min
From the large car park at the Heidihof restaurant you can reach the Heidi village in Oberrofels in a few minutes, with museum and kiosk with tourist information. From there the narrow hiking trail up to the natural road, which then tells the 12 stations with the matching wooden figures about the heidi history. How to get to the original Heidi hat with the children in an entertaining way.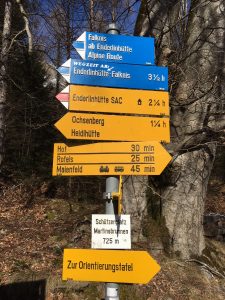 From Rofels car park: walking time approx. 1h 45 min
From Unterrofels (small parking lot) follow the wide, first asphalted hiking trail, which then changes into a natural road. The 12 stations tell the different episodes of Heidi history in an entertaining way.
At the top you will find a team of huts with food and drink and pure nature to linger.
team / contact
team:
TEAM Zindel:
Phone 079 263 78 45
TEAM Ackermann:
Phone 079 773 07 67
opening hours
In April and November every weekend from May to October continuous, if the weather is good from 11:00 a.m. to 5:00 p.m.
other times possible on request (groups, clubs, etc.).
History
The alpine hut on the Ochsenberg, built over 200 years ago, is beautifully embedded in nature.
This idyllic oasis inspired the writer Johanna Spyri so much, that she wrote around 1880 her world-famous Heidi story – a one of a kind kids novel. This original hut has in recent years become a desirable place for nature lovers to rest and relax.
Home
If the weather is good, we will be happy to welcome you from 1 May 2019 to 3 November daily.
The beautifully situated alp restaurant – the original Heidi hut is located on the Ochsenberg above the village of Maienfeld.
Here you can enjoy fantastic views and wonderful nature.
From Maienfeld it takes about 1.5 hours on foot or ca. 45 minutes by bike.
We are happy to serve you typical Swiss dishes (hot and cold).
Further information under:opening hours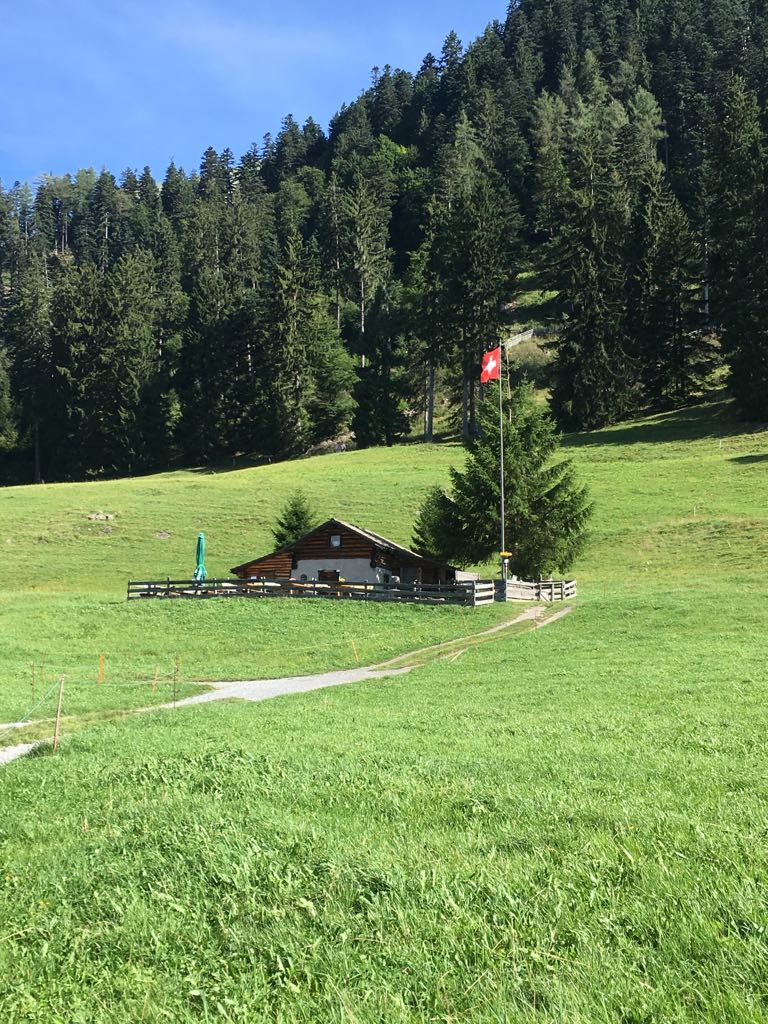 We accept:
Swiss Francs (CHF) / Euro 1:1
No credit cards
Öffnungszeiten
Im April und im November jeweils am Wochenende.
Von Mai bis Oktober durchgehend, bei guter Witterung
ab 11:00 Uhr bis 17:00 Uhr
auf Bestellung auch andere Zeiten möglich
( Gruppen , Vereine  ect. )
Wegbeschreibung
Wegbeschreibung von Maienfeld zur Heidihütte, Heidialp-Ochsenberg. (Wegweiser Ochsenberg/Heidihütte folgen)
Ab Martinsbrunnen: Wanderzeit ca. 1h 15 min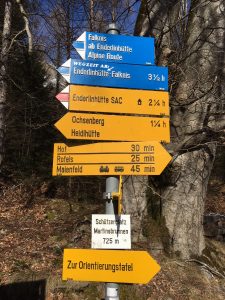 Den Parkplatz Martinsbrunnen erreicht man über die Steigstrasse, und lässt das Auto auf dem schönen, schattigen Parkplatz im Wald. Von dort läuft man auf der Naturstrasse gemütlich zur Ochsenalp, Heidihütte.
Ab Heidihof Parkplatz: Wanderzeit ca. 1h 45 min
Vom grossen Parkplatz beim Restaurant Heidihof erreicht man in wenigen Minuten das Heididorf in Oberrofels, mit Museum und Kiosk mit Touristen Information. Von dort den schmalen Wanderweg hinauf auf die Naturstrasse, welche dann die 12 Stationen mit den dazu passenden Holzfiguren zur Heidigeschichte erzählt. So gelangt man mit den Kindern in unterhaltsamer Art zur original Heidihüt
te.
Ab Rofels Parkplatz: Wanderzeit ca. 1h 45 min
Von Unterrofels (kleiner Parkplatz) dem breiten, zuerst asphaltierten Wanderweg folgen, welcher dann in eine Naturstrasse übergeht. Die 12 Stationen erzählen auch hier in kurzweiliger Art die verschiedenen Episoden der Heidigeschichte.
Oben angekommen erwartet sie ein aufgestelltes Hüttenteam mit Speis und Trank und pure Natur zum Verweilen.
Team / Kontakt
Hüttenteam:
TEAM Zindel:
Tel. 079 263 78 45
TEAM Ackermann:
  Tel. 079 773 07 67
Geschichte
Die vor über 200 Jahren erbaute Alphütte auf dem Ochsenberg liegt wunderschön eingebettet in der Natur.
Dieser idyllische Platz inspirierte die Schriftstellerin Johanna Spyri derart,
dass Sie die weltbekannte Heidi Geschichte , um 1880 als unvergleichliger
Kinderroman schrieb. Die original Hütte ist in jüngster Zeit zu einem beliebten Bergbeizli und Erholungsort gewachsen.
Start
Bei guter Witterung begrüssen wir Sie gerne täglich von
1. Mai bis 3. November.
Das schön gelegene Garten- Bergbeizli(Heidialp) , die original Heidihütte auf dem Ochsenberg ob Maienfeld .
Hier geniessen Sie traumhafte Aussicht und herrliche Natur. Von Maienfeld in ca. 1,5 Std. zu Fuss oder in ca. 45 Min. mit dem Bike gut erreichbar .
Wir bedienen Sie gerne mit typisch schweizerischen kalten und warmen Speisen.
Weitere Infos unter: Öffnungszeiten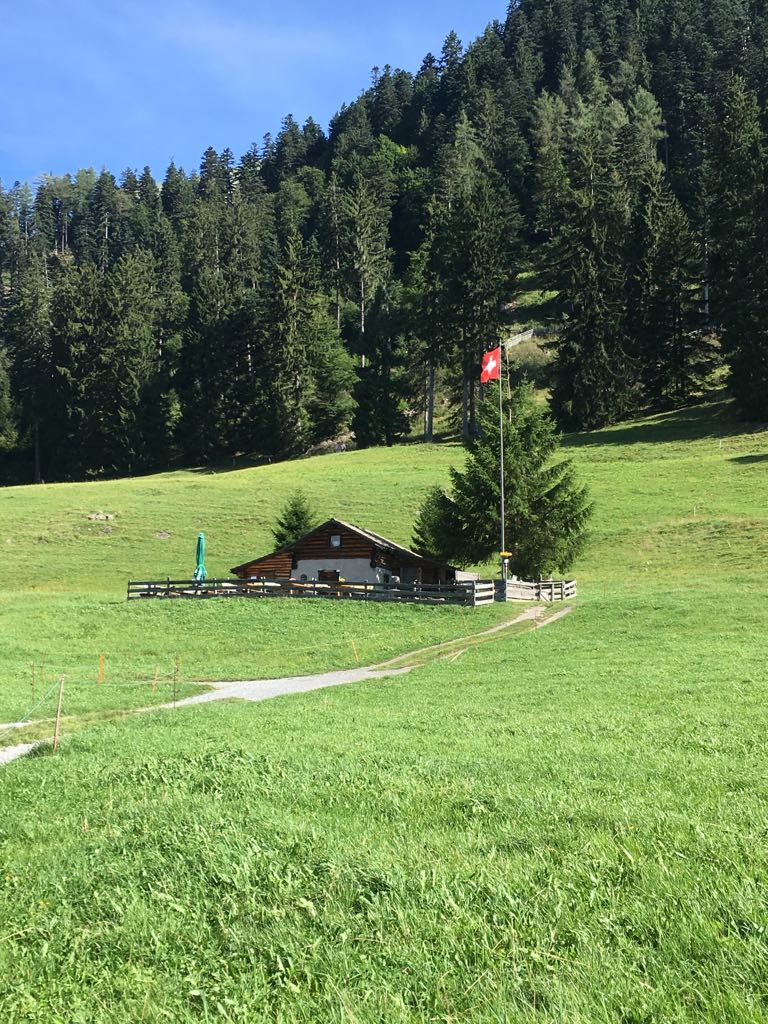 Wir akzeptieren :
Schweizer Franken (CHF) / Euro 1:1
Keine Kreditkarten