Directions from Maienfeld to Heidihütte, Heidialp-Ochsenberg. (follow signs to Ochsenberg/Heidihütte)
From Martin's Fountain: walking time approx. 1h 15 min
You reach the parking lot Martinsbrunnen via Steigstrasse, and leave your car in the beautiful, shady parking lot in the forest. From there one walks comfortably on the natural road to Ochsenalp, Heidihütte.
From Heidi village : walking time approx. 1h 40 min
From the Heidi village in Oberrofels, the narrow hiking trail leads up to the natural street, which then tells the 12 stations with the matching wooden figures about the history of the Heidi. This is an entertaining way to get to the original Heidi hat with the children.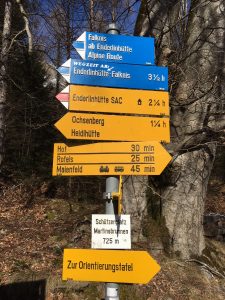 From Rofels car park: walking time approx. 1h 45 min
From Unterrofels (small parking lot) follow the wide, first asphalted hiking trail, which then changes into a natural road. The 12 stations tell the different episodes of Heidi history in an entertaining way.
At the top you will find a team of huts with food and drink and pure nature to linger.